Zeldin closing in on Hochul in New York governor's race
Gov. Kathy Hochul's lead against Republican challenger Rep. Lee Zeldin has become considerably smaller. That's according to a NewsChannel 13-SurveyUSA poll released Thursday.
The poll shows Hochul with a six-point lead over Zeldin. She was ahead by 24 points the last time SurveyUSA looked at the New York governor's race in August.
Hochul has the support of 47% of the people who responded to the poll. Zeldin gets 41%. Another 4% plan to vote for someone else. The remaining 8% are still undecided. The margin of error is 5.4%.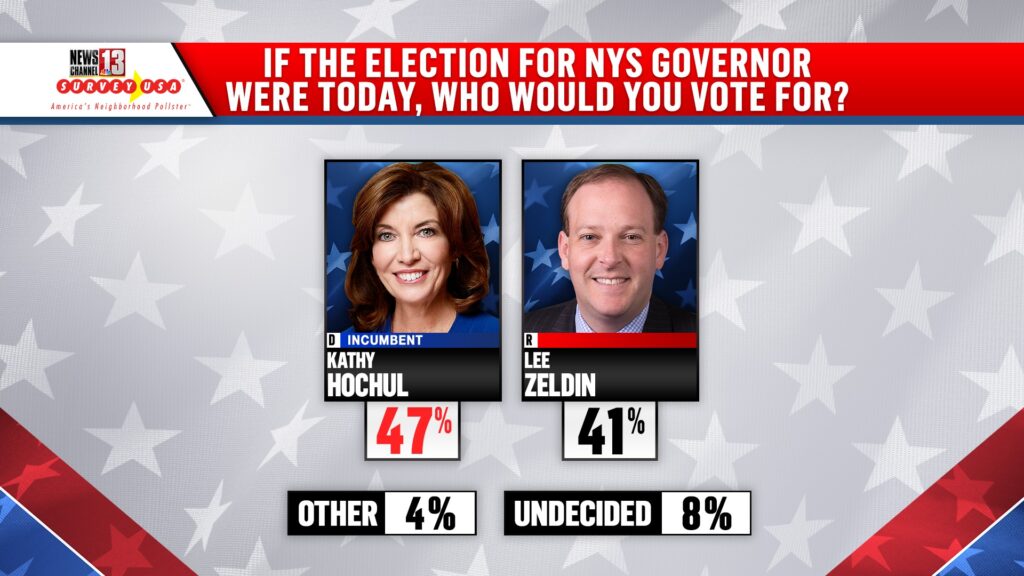 Zeldin leads by a 2-to1 ratio among voters who say crime is their most-important issue. Meanwhile, Hochul holds an 8-to-1 lead with voters who are most concerned about abortion rights.
In the race for the U.S. Senate, Senate Majority Leader Chuck Schumer has an easier path to winning. He's leading Republican Joe Pinion 52% to 38% in this poll, with 4% voting for other candidates and 6% undecided.
In other statewide, local, and Congressional races, 47% say they are more likely to vote for Democratic candidates and 38% for Republican candidates. That's a significant narrowing from two months ago, when Democrats had a 23-point lead on this generic ballot test.
VIDEO: Analysis on why the gubernatorial race is tightening