'No excuse for it': GPS blamed for latest Glenville bridge hit
It's feeling like Groundhog Day in Glenville. The bridge on Glenridge Road was hit again Monday by a truck that was too tall for the 10 foot, 11 inch overpass.
A new turnaround installed in the summer along with new flashing signs are an emergency last chance for drivers about to hit the bridge. However, neither stopped a driver Monday.
Photos showed a toilet paper mess.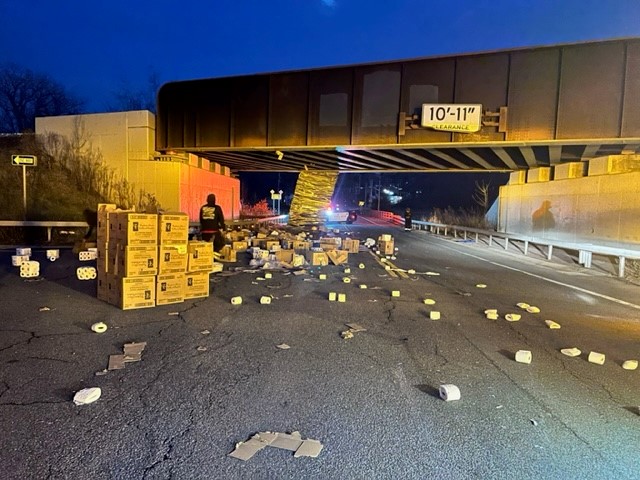 Glenville Town Supervisor Chris Koetzle said the road was shut down for six hours during the busy commute home. The driver was Canadian — and according to Koetzle — told police he was just following his GPS.
Koetzle estimates the bridge is averaging one hit a month.
"I do think that what DOT has put in place is starting to work. It's mitigated hits, there's no question about that, hits are down. However, it will not eliminate hits, and we never anticipated it would eliminate hits. The only way to eliminate those hits is to remove the physical barrier, which is either raise the bridge or close the road to truck traffic," he said.
He said, the town has asked the Department of Transportation to do just that. NewsChannel 13 reached out to the DOT, and a spokesman referred us to those efforts with the turnaround and enhanced signs.
An expert in commercial driving said drivers bear the responsibility to heed the warnings.
Andrea Hanley is Senior Vice President of the CDL Schools, training drivers in the Capital Region to navigate the roads safely in a commercial vehicle. Hanley said training teaches drivers to not only be aware of the size of their truck, but to take responsibility for planning a safe route.
It's critically important, she said, for truck drivers to have the right kind of GPS — one that reads the road appropriately for trucks. It's something that she says is part of every driver's training.
"When you start seeing things through the eyes of a professional driver and commercial driver, you see things differently. We spend a lot of hours on trip planning, map reading, and that's also understanding what these signs mean and what they're designed to do, and that's to be safe," Hanley said. "The driver is always responsible for ensuring those routes are safe for the size of their vehicle."
Another Canadian truck driver expressed outrage when NewsChannel 13 told him about the bridge that keeps getting hit.
"There's no excuse for it, actually. You can't read, maybe. There's no excuse to hit a bridge, no, with a transport, with a truck. There's no excuse at all. They're clearly marked," said Greg Munday, who said he's been driving a truck for more than 30 years.
Koetzle says drivers are too often blindly following a GPS.
"That's what we've got to break," he said.